How to Add Bandcamp to Your Facebook Page
Ahem! The following is for Internet historians only. Facebook is no longer developing Canvas apps (which the Bandcamp Facebook app is/was), so neither are we. If you have not yet set up the Bandcamp Facebook app, don't. If you already have, you can use these instructions to troubleshoot it, but please be advised that we will eventually shut down our Facebook app entirely.
The Bandcamp Facebook app puts all the functionality and content of your Bandcamp site into a tab within Facebook. This page will walk you through its installation, cover some common questions and help you troubleshoot any problems you may run into along the way.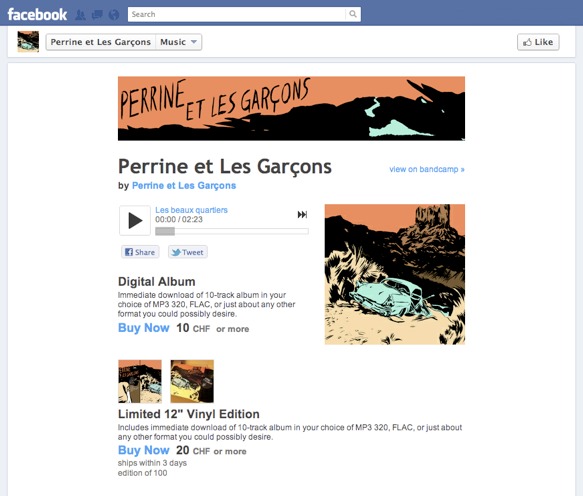 Installation
Before we begin, please make sure you're logged in to Facebook, and that you have a Facebook Page (not a Profile). More information about Pages and how to create one can be found right here.
Ready? Click here to begin the installation process, then follow along with the instructions below.
Select the Facebook Page where you want to install Bandcamp, then click the blue "Add Page Tab" button:

In the "Apps" section on the left side of the page, click on the new tab that says "Music":

Log in to the Bandcamp account that you want to install:

Simply open a new tab or browser window to the Bandcamp login page, log in as you normally would, then return to Facebook.

If you do that and are still asked to log in, you may need to temporarily change your cookie settings.

Click OK to confirm. A shaft of light envelops you as a gentle shower dampens your hair, teardrops from the angels above weeping at the beauty of your Bandcamp site, right inside of Facebook.
If you see no such light or feel no such shower, please skip to Troubleshooting.
How do I change the name of the Bandcamp tab?
The Bandcamp tab is named "Music" by default, but you can easily change the name to "Store", "Bandcamp", or anything else.
Click the "Settings" tab under the top search bar:

Select "Apps" from the list on the left:

Click "Edit Settings" under the Bandcamp app:

Enter the new tab name next to "Custom Tab Name" and click "Save":

Click the blue "OK" button to close the settings window.
How do I change the icon of the Bandcamp tab?
Click the "Settings" tab under the top search bar:

Select "Apps" from the list on the left:

Click "Edit Settings" under the Bandcamp app:

To change the tab icon, click "change" next to "Custom Tab Image":

Click "Edit" again on the next page, then "Choose file" to upload your image. The icon must be 111×74px:

Close the Custom Image window and click the blue "OK" button to close the settings window.
The Facebook tab is narrower than your Bandcamp site, so rather than scaling your existing Bandcamp header down (which would look lousy), we allow you to upload another header specially sized for Facebook. You do this from the Facebook section of your Profile page on Bandcamp.
Now that I've got Bandcamp inside of Facebook, should I stop sending fans to my standalone Bandcamp site and instead just send them all straight to Facebook?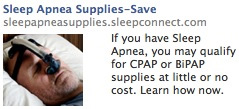 We think that's a bad idea. Whereas Bandcamp provides a focused music listening and purchasing experience, the average Facebook page has between 50 and 60 things for your fans to click on other than your music. Why let an ad for Bonobos pants vie for your fans' attention unless you have absolutely no other choice? We prefer to think of Facebook as just another part of a good overall distribution strategy. There will always be people for whom the greater Internet outside of AOL Facebook is a terrifying place, and their money is just as green as anyone else's, but the rest of your fans are plenty comfortable being sent elsewhere. And we of course think the best elsewhere is your standalone Bandcamp-powered site.
Troubleshooting
Even after signing in to my Bandcamp account, the app still asks me to log in - what gives?
Your browser is probably rejecting third-party cookies, which are the magic ingredient in the final step of installation. You'll need to enable those in order to finish installing your app (you'll be able to disable them again afterwards, if you like).
To enable third-party cookies:
In the desktop view of Internet Explorer, click the gear icon at the top right, and choose "Internet Options"
In the Privacy tab, drag the slider down until you see "Accept all cookies"
Click "OK"
To enable third-party cookies:
Click "Firefox" in the menu bar and choose "Preferences"
Click on the Privacy tab, and in the History section choose "Firefox will: Use custom settings for history"
Make sure the "Accept cookies from sites" is checked, and choose "Accept third-party cookies: Always"
Close the Preferences window
To enable third-party cookies:
Open an new tab and enter the URL of your cookie settings page: chrome://settings/content
Uncheck the "Block third-party cookies and site data" box
Close the settings page
I clicked the above link to start the installation process, but it's just taking me back to my Facebook page.
The Bandcamp app can't be installed on Facebook profiles, only Facebook Pages.
I clicked the above link to start the installation process, but it's just taking me to a blank page.
When you click the installation link, you'll need to be using Facebook as the profile that is the admin of your musician page. You can switch which account you are using Facebook as by clicking the small blue arrow on the far right of the top menu bar.
I've customized the design of my Bandcamp site, but I don't see those customizations on Facebook. Why?
Custom designs are great when they're able to really define the look of your entire page, but with all the controls and advertising surrounding the already compact Facebook tab, we felt it was important to keep it as simple and clean as possible (it's tough enough ignoring those distractions without the look of the Buy links shifting on every Bandcamp page). Note, however, that you can still add a custom header graphic.
Where's my index page?
We don't support index pages in Facebook just yet – the tab will instead always default to your latest release (but your full discography is still included on each page).
How do I switch the Bandcamp Facebook app to display a different Bandcamp account?
Go to the Facebook section of your Bandcamp Profile page and click "remove". Save the page, switch back to your Facebook page, and refresh. You'll then have the opportunity to connect a different Bandcamp account.
Can I power more than one Facebook Page with the same Bandcamp account?
No, not currently. Maybe some day, but for now, a Bandcamp account can only be associated with a single Facebook Page, and vice versa.
Are you having trouble setting up your Facebook app? Or perhaps you've spotted an inaccuracy in our setup instructions? Please let us know. Thanks!